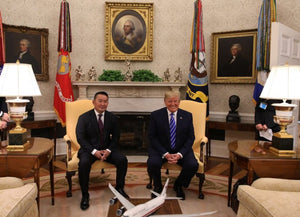 Mongolia-U.S. strategic partnership – Solid base for further relations
Ulaanbaatar /MONTSAME/ Relations between Mongolia and the United States of America reached a new level, advancing non-stop over a period of 32 years since the establishment of diplomatic relations between the two countries. Specifically, the joint declaration put out during Mongolian President Kh.Battulga's official visit to the United States from July 29 to August 3, declares the bilateral relationship to be a strategic partnership.
Mongolia's relations with the U.S. based on the country's third neighbour policy is of great importance. The relationship has been developing in line with common strategic interests, shared democratic values, good governance, principles of sovereignty, and respect for human rights.
Experts consider that the U.S. choosing Mongolia as its 17th strategic partner in addition to the 16 strategic partners it had, lifted Mongolia's reputation internationally. The expanded comprehensive partnership reached between the two countries during Mongolian Prime Minister U.Khurelsukh's visit to the U.S. in September 2018 was thus raised to a whole new level in less than a year. However, we cannot presume the relations reached a level of strategic partnership straight away.
On September 20, Mongolia and the United States issued a joint statement and agreed to elevate their relations to expanded comprehensive partnership based on the Declaration of Principles for Closer Cooperation, the first document setting forth basic principles of bilateral relations, released by the two countries in 2007. In the past, four former Presidents of Mongolia have paid official visits to the U.S. during their presidencies, releasing joint statements and confirming the fundamental principles of bilateral relations. Strategic partnership is the highest level possible for bilateral relations to reach and strategic partners are those who have a long term agreement on mutual sharing of physical and spiritual resources for fulfilling their shared goals.
The U.S. became the fifth country to have strategic partnership with Mongolia. Prior to that, Mongolia had strategic partnerships with four countries namely, Russia, China, with which the country has expanded comprehensive partnership as well, Japan, and India.
About this, the Mongolian President said, "Mongolia has diplomatic ties with 192 countries and thus far had strategic partnership with four of those countries. I am glad that the U.S. is becoming one of these countries. Mongolia aspires to keep the U.S. as its key trade partner and major investor. There is an opportunity to further expand relations and cooperation between the two countries in economy, investment, banking, and trade in mutually beneficial ways."
About the President's visit, Russian expert Sergei Lousianin wrote, "Strengthening its relations with Mongolia that has an important strategic position between Russia and China is crucial to the U.S. confronting China. As for President Kh.Battulga, his U.S. visit sought balance in Mongolia's relations with its two neighbors and advanced the country's 'third neighbor' policy."
Enriching strategic partnership with economic content
The U.S. unwaveringly supported Mongolia's transition to democracy and a market economy and assisted the country in coping with problems that arose during the transition process. In addition, the relationship between the two countries that cherish the principles of democracy has been deepening. Now, it is crucial for Mongolia to enhance its economic ties with the country that has the most powerful economy. Even though relations of the two countries reached a higher level, the scope of bilateral economic cooperation is still unsatisfactory. It can be seen from that the volume of trade with the U.S. accounted for only 1.7 percent of Mongolia's total trade turnover as of 2018.
It creates an opportunity to concretize economic ties now as strategic partnership, a solid foundation for future relations, is formed. However, strategic partnership cannot be measured in monetary terms, and it would be inappropriate to believe investments will roll in from the U.S. and trade will skyrocket once such partnership is formed. In other words, a necessity has arisen for the Mongolian side to be enterprising to enrich strategic partnership with economic content.
The 'Roadmap for Expanded Economic Partnership between the United States of America and Mongolia' and 'U.S.-Mongolia Transparency Agreement' laid out the basis for economic cooperation between the two countries. Besides, a new page will be turned in bilateral economic relations if the U.S. Congress passes the Mongolia Third Neighbour Trade Act. 40 members of the U.S. House of Representatives led by Representative Ted Yoho introduced the bill to grant Mongolian cashmere duty-free access to the United States.
During the prolonged talks between Presidents Kh.Battulga and Donald Trump, views were exchanged on pragmatic solutions and approaches for enhancing bilateral economic ties in numerical values based on the strategic partnership. While requesting the U.S. side to support duty-free entry of Mongolian wool and cashmere products to the country, President Kh.Battulga thoroughly explained the gist of the matter to the U.S. President. At the meeting, President Donald Trump voiced his full support for the bill and there is high probability of support from other members of Congress. Therefore, Chief of Office of the Present of Mongolia Z.Enkhbold expressed his hope that the act will be passed in September.
If the bill goes through, Mongolians will export their wool and cashmere products to the United States duty free and this will guarantee income for 800 thousand members of 200 thousand herder families. Presently, Mongolia produces nine thousand tons of cashmere and 23 to 25 thousand tons of wool each year and domestically processes slightly over 10 percent of the total cashmere. The passing of the bill will open up an opportunity for complete processing and export of finished goods. As a result of that, 40 to 50 thousand jobs will be newly created and unemployment and poverty will drop. It bears great social and cultural significance for the country to retain its nomadic civilization while making its wool and cashmere products a world brand. The passing of the bill will also be an important step to diversifying the mining dependent economy of Mongolia. The two heads of state have good points such as getting to the gist of the issue, speaking frankly, and considering matters pragmatically before making any decision as they both have conducted business previously. It brings hope that the issue crucial to Mongolia's economy will be addressed promptly.
Sensing the tone of bilateral relations, Mongolian businesses started working decisively. For instance, the Gobi Cashmere Company of Mongolia is opening online stores in San Francisco and Los Angeles next month.
Other opportunities for Mongolia
There are other advantages of forging a strategic partnership. Particularly, the United States announced that it will make an investment of USD 60 billion in the Indo-Pacific region. Its purpose is to boost mutually beneficial cooperation with Asia-Pacific countries, especially its partner countries. It urges Mongolia to work adroitly to draw in even a small portion of the investment as a country that has a strategic partnership with the United States. The strategic partnership will be of benefit for this, D.Gansukh, Director of the Mongolian Foreign Ministry's Department for Americas, Middle East and Africa, underscored.
The importance of strengthening its alliances with Japan, South Korea, Australia, the Philippines, and Thailand as well as Asia-Pacific countries that are of great strategic significance namely, Singapore, New Zealand, Mongolia, and Taiwan, are mentioned in clause 4.2. of the U.S. Indo-Pacific Strategy report released from the country's Department of Defense. How New Zealand is mentioned 17 times, Singapore – 15 times, Mongolia – 17 times, and Taiwan – 30 times in the report implies that the countries basically have same status in the IndoPacific strategy.
Besides, it is important to make optimum use of the opportunities presented by the BUILD Act–Better Utilization of Investments Leading to Development Act – signed by U.S. President Donald Trump in 2018, creating the U.S. International Development Finance Corporation. The act includes provisions for the expansion of trade and investment relations on equal and mutually beneficial grounds, private sector-led growth, infrastructure development, and promotion of women business owners. The basic concept of the law is that the U.S. will have more flexibility to support investments in developing countries to drive economic growth, create stability, and improve livelihoods.
In conclusion, President Kh.Battulga's visit was of enormous importance for the reason that it elevated Mongolia-U.S. relations to a new level of strategic partnership. It would not be exaggerating to characterize the visit, which laid a solid foundation for further bilateral cooperation in political, economic, and social fields and national security and brought bilateral ties to a new level, as 'historic'.
A few days after the conclusion of the Mongolian President's visit, U.S. Secretary of Defense Mark Esper and Assistant Secretary for Economic and Business Affairs Manisha Singh paid visits to Mongolia. This can be seen as the U.S. prioritizing its strategic partnership with Mongolia and aspiring to realize the agreements concluded in Washington.
source: Montsame
---
12 comments