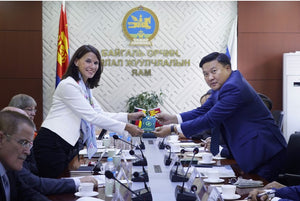 Delegates of German Federal Ministry of Environment visit
At the invitation of Minister of Environment and Tourism N.Tserenbat, delegates of the German Federal Ministry of Environment, Nature Conservation and Nuclear Safety led by Parliamentary State Secretary Rita Schwarzelühr- Sutter paid a working visit in Mongolia between August 23 and 28.
Minister of Environment and Tourism N.Tserenbat received Mrs. Rita Schwarzelühr- Sutter on August 26. During the meeting, the sides noted the successful implementation of partnership in environment and climate field, and expressed their readiness to develop green economy, and making the economic sectors based on environmentally friendly technology.
Noting that the Federal Republic of Germany is giving special attention to increasing renewable energy, Mrs. Rita Schwarzelühr-Sutter highlighted that it is necessary to have the agricultural sector become more value-added and produce less waste. Afterwards, Minister N.Tserenbat introduced the current measures being taken in order to change citizens' attitude as well as initiatives such as supporting private entities with green loans and by exempting environmentally friendly technology from import tax, and adapting to climate change, protecting biodiversity, and enhancing the livelihood of local citizens by developing sustainable tourism.
In the framework of the visit, the delegates will be participating in the workforce meeting to develop the government policy and the country's contribution to the Paris Climate Agreement, alongside becoming acquainted with the Khustain Nuruu National Park, Gorkhi Terelj National Park and the operations of the Baganuur coal mine. They are also to hold meetings with officials of the Ministry of Environment and Tourism, Ministry of Mining and Heavy Industry, Ministry of Foreign Affairs and the Ministry of Energy.
( Resource : Mongolmessenger) 
---
154 comments