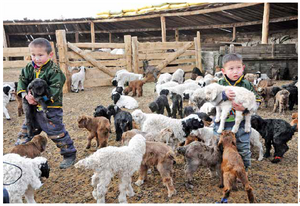 Spring situations on livestock and sowing preparations reported
Agriculture Minister stresses high demands of new wells
Highlighting that as of the final result of 2018 livestock census, the number of livestock reached 66.5 million, which showed an increase of 0.4 percent compared to 2017, Ch.Ulaan said, "The animal husbandry sector makes 10.6 percent of the GDP and 8.4 percent of export earnings, directly providing one third of the population with jobs. The sector's production has increased year by year, reaching MNT 3.7 trillion in 2018 with an increase of 5.9 percent compared to the previous year. The export of livestock products and commodities also reached USD 580 million in 2018, which is an increase of MNT 263.5 million or 1.8 times than last year.
 "Nationwide winter and spring preparations were evaluated to be at 89.1 percent. With frequent rains from mid-July, pastureland was good and livestock was fattened. Due to the good preparation for winter and spring alongside this year's winter being warm despite the little amount of snow, there were no difficulties.
As there was a little amount of snow throughout the country, Bulgan, Darkhan-Uul, Dornod, Dornogobi, Umnugobi, Selenge, Sukhbaatar, Uvs, Khovd, Khuvsgul and Khentii are leading the aimags in dryness, while the rest of the aimags are experiencing only a slight amount of dryness. Thus, as consequence, there is an insufficient amount of water for livestock in Bulgan, Dornod, Umnugobi, Sukhbaatar and Khuvsgul with high demand for new wells.
With 29.7 million dam livestock counted in earlier of this year, no less than 20 million newborn offspring are expected. Currently, of the total dam livestock, 15.9 million or 53.7 percent delivered, with 15.6 million newborn offspring (98.6 percent survival) being cared. He then noted that of the total of 43,677 wells for the use of livestock watering, 29,345 wells are operated manually and the others are equipped with the appropriate engineering infrastructure, and that the last year's situation, which made the government set a goal to provide over 80 million livestock with water for half a year, is occurring once again in 2019.
Stressing that the current number of wells are incapable of providing 66.5 million livestock with water, the Minister said, "Herders tend to use the manually operated wells during winter and spring, while they use the wells with the engineering infrastructure during spring and autumn. About 80 percent of the total manually operated wells are used during the two seasons. During winters with little snow, animals are prone to lose fat and strength. But the situation is gradually worsening as time goes by."
"The export of meat and meat products have increased year by year. Despite the export quota of 27.9 thousand tons of beef and 33.6 thousand tons of horse meat for 2018, a total of 70.4 thousand tons worth about USD 160 million were exported. With the increase in export of meat and meat products, the goal to export 50 thousand tons of meat and meat products in the frameworks of the Action Plan of the Government for 2016-2020 was met, which is crucial in increasing foreign exchange earnings, reducing the dependency of economy on mining, diversifying the economy and the sustainable development of non-mining sectors.
"On agrarian productions, "This year, crops, potatoes, vegetables, fruits and berries will be planted in a total of 478 thousand hectares. Of the total of 508 thousand tons of crops, 487 thousand tons of wheat, 64 thousand tons of fodder plants, 24 thousand tons of oil plants, 166 thousand tons of potatoes and 107 thousand tons of vegetable are planned to be harvested. We are working to not only have the domestic demand for wheat and potatoes be fully met, and 60 percent of the main vegetables be provided domestically, but also cultivate fallow in 386 thousands of hectares, increasing the total land for farming to 885 thousand hectares.
"The officials also reported that over 1,500 entities of 14 aimags, about 500 entities and cooperatives and 35 thousand households are currently making their preparations.
---