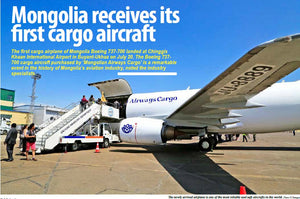 Mongolia receives its first cargo aircraft
Present at the aircraft receiving ceremony were Minister of Road and Transport Development, MP B.Enkh-Amgalan and officials of the ministry, authorities of Civil Aviation Authority of Mongolia and the board of 'Mongolian Airways Cargo'.
Mongolia has the exclusive rights to make frequent cargo flights to the Russian Federation and the People's Republic of China, which have not been used until now. The acquisition of the first cargo airplane makes it possible to use the exclusive rights.
The Boeing 737-700 is one of the most reliable and safe aircrafts in the world for which 11 thousand models were produced. It has the capacity of carrying 20 tons of freight with a range of 5250 km. Mongolia will make cargo flights to Moscow, Beijing, Tokyo, Shanghai, Guangzhou, Hohhot, Seoul, Hong Kong, Irkutsk, Ulan-Ude and the countries of Central Asia. In addition to meat, meat products, wool, cashmere and rare-earth elements, it is possible to transport mining equipment, large items and special cargo from Mongolia. Moreover, it is planned to transport ecological fruits, special and express cargo from the Soviet Central Asia in a short time. With the completion of its cargo terminal, 'Mongolian Airways Cargo' will provide internationalexpress mail and a comprehensive logistics services to the customers.
 With the funding of foreign banks and financial institutions, the company is expecting to receive another cargo aircraft in the near future.
(Source: mongol messenger)
---