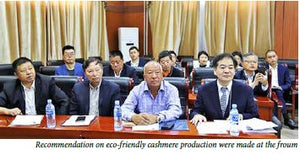 Cashmere forum suggests to establish joint high capacity plant
On July 23, the fourth edition of the Mongolia-China cashmere forum themed 'Expanding mutually beneficial cooperation' was organized at the conference hall of the Ministry of Food, Agriculture and Light Industry with the involvement of authorities from the ministry, Mongolian Wool and Cashmere Association and its member companies, China Chamber of Commerce of Import and Export of Foodstuffs, Native Produce and Animal  By-Products (CFNA), and China's,major cashmere producers.
In his opening remarks, Acting State Secretary and Head of Department of Public Administration and Management of the Ministry of Food, Agriculture and Light Industry T.Jambaltseren stressed the importance of developing joint strategies for the global market while pointing out that Mongolia and China are big suppliers that account for around 90 percent of the global cashmere production.
 "For instance, it is important to take measures to maintain cashmere price and quality on the global market".
 "It is worthy to note that we started to adopt environmentally friendly approaches to the preparation and production of cashmere raw materials and are aligning them with the concept of sustainable development". He also underlined that the businesses of the two countries have to reach mutually beneficial unanimous decision as well as to strengthen and maintain their cooperation.
The participants conferred on- the topics 'Sustainable development of cashmere industry on the world market – Pursuing mutually beneficial cooperation', 'Supply chain and sustainability', 'Reform of Mongolia's cashmere industry and opportunities for cooperation', and 'Export—import analysis of cashmere products', as well as the issues regarding environmentally friendly cashmere production and the current state and further development of bilateral cashmere cooperation.
The cashmere forum made a recommendation about eco-friendly sustainable cashmere production, the two countries cooperation development in cashmere sector and it put a number of proposals including:
-To establish a joint final product plant with high capacity in Mongolia.
-To give Mongolian companies an opportunity to operate at the Agricultural Park in Bayannur, Inner Mongolia, China.
-To employ well-versed, experienced engineers and technicians of China in Mongolia and upskill Mongolian engineers and technicians at Chinese companies.
-To collaborate in promoting Mongolian quality products to the Chinese market.
'About the conference, Tian Hong, Director of CFNA Animal Byproducts Department, said "The two countries have ample opportunity to partner with each other in the big world market. Cashmere producers of the two countries have had numerous meetings. This time as well, we are learning from experience and achievements of one another and looking for ways to enter the world market."
 "We will develop together through joint studies and introduction of advanced cashmere processing technologies to enter that huge market," he added, while stating his willingness to initially exchange information and bring Mongolian cashmere products to the Chinese market to do so.
---
197 comments